CINCINNATI — One thing Amer and Vicky Safadi know for sure — God has laid the path ahead of them everywhere they've gone.
After growing up in different regions — Amer in the Middle East and Vicky in Northern Africa — the two met at a Christian leadership conference in Lebanon, and God started their ministry together. Much of their work was ministry among Syrian refugees in Jordan. But two kids and several years later, the Safadis found themselves moving around, dodging serious threats for sharing the gospel.
So, they began to pray for clear direction.
Amer asked God if there was somewhere He wanted them to move or if He wanted them to stay despite the danger.
"We said, 'We are ready for anything that's for the kingdom,'" Amer said.
God began to lay on their hearts the vast number of Arab immigrants and refugees in the U.S. who didn't have an Arabic-speaking pastor to lead a church for them.
The Safadis moved first to Cincinnati, but after a few years, the opportunity never materialized. God, then, revealed another place for them to go.
They moved to Milwaukee where they met a woman who had been praying for 16 years for a pastor who could start an Arabic-language church there.
So, the family moved, and Amer's brother went with them. They started a small group in the woman's house, and it grew as Arabs came to ask questions and eventually came to faith in Christ. In July 2019, the group launched as a church.
Not long after, Amer began to sense God, once again, might have somewhere else for him to go. His brother could lead the church in Milwaukee—it didn't need both of them.
He and Vicky "prayed more, and we felt that God wanted us to go back to Cincinnati," Amer said.
That surprised them, so as they walked forward in obedience, they asked God for confirmation.
And God answered, Amer said. The first confirmation came in the form of Travis Smalley, lead pastor of Lakota Hills Baptist Church and the North American Mission Board's (NAMB) Send City Missionary in Cincinnati. Amer reached out to him, and he told Amer his church would love to come alongside them in ministry.
The Safadis packed their bags, and the next day they left.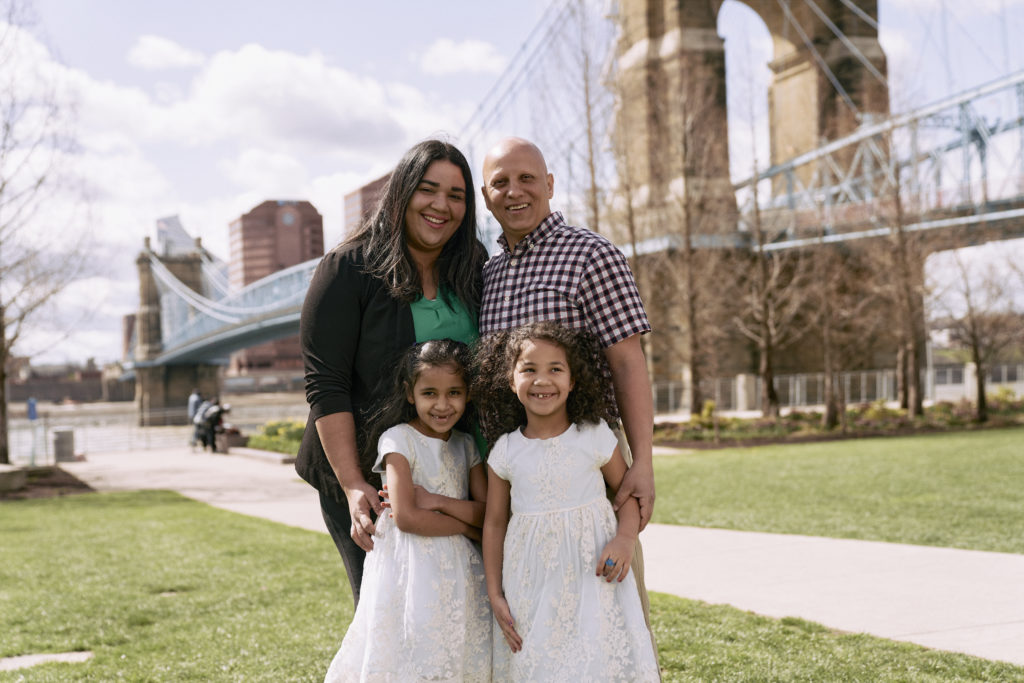 Travis invited them to come to the church's English as a Second Language program. There, they met an Arab couple who had come to register for classes, and they had a long conversation and swapped phone numbers, then addresses.
And they realized their apartment buildings were next door to each other.
"I said, 'Oh, just please come, come,' and they came the same day," Amer said. "We started talking a little bit, and he said, 'You know the people living on the first floor?'"
Amer learned another Arab family lived below them — so they invited them too.
"So, they came also," he said. "And we spent hours there talking about the gospel and praying."
With that, Amer and Vicky had all the confirmation they needed. "We said, 'God, thank You. It's the first week, and You gave all the signs that we need more people here in Cincinnati,'" he said.
The Safadis started visiting stores where Arabs work and shop; they started working with the ESL program at Lakota Hills; and they began laying the groundwork for an Arabic-language church to launch in December 2019.
They started with 22 people. By the end of February, they had 55 from eight countries.
Every time the door was open, someone new was there, Amer said. And as the pandemic hit and they moved their service to live streaming, they reached a new audience of thousands of Arabic-speaking people from across Northern Africa, the Middle East, Europe and other states in the U.S.
"It's amazing," Amer said, noting that even in the midst of a pandemic, God is still "working in a great way."
And Lakota Hills Baptist has been a vital partner. The congregation opened their facilities for the Arabic-language church to use, offered connections for food distribution ministries and, most of all, they showed love to the Safadis and the new church.
"Travis, their staff and also the people in the church, we feel them as a family around us — it's not just church with them," Amer said.
As the new church's ministry has grown, they've seen many come to faith. One of those, Ricky, was crossing the street, saw the church's sign and called Amer looking for someone to officiate his wedding in Arabic.
"He wasn't a believer, and he accepted Jesus," Amer said. Ricky's wedding was the church's first.
The Safadis ask every Arab person or family they meet to come to their church or to their house to have tea and talk. They've found God keeps bringing people across their path who need to hear the gospel in their heart language.
"It's easier to share the gospel (in Cincinnati than in the Middle East), but it depends on the trust and the relationship you build with them during the moment or the days that you have with them," Amer said.
"Sometimes the person that you saw, you don't know if you will see him again, so at that moment you have to share the gospel with them," said Amer. "The people at ESL or other places, you will see them regularly, you build a relationship with them and trust with them to share the gospel, and God opens their heart. It's not about us. It's God and the Holy Spirit who opens their hearts to accept Him. It's not about us at all."
The Annie Armstrong Easter Offering® provides half of NAMB's annual budget, and 100 percent of the proceeds go to resource missionaries. The offering is used on the field for training, support and care for missionaries like the Safadi's and for evangelism resources.
 Prayer Requests
For the Safadis to have favor with the Arabic-speaking people they meet and for God to orchestrate those meetings.
For the Arabic church in Cincinnati to continue to grow in reaching its city and beyond.
---
Published March 2, 2022