LAKE CHARLES, La.—Send Relief, the compassion ministry of Southern Baptists, spent Friday morning (Aug. 28) delivering food and supplies for Southern Baptist Disaster Relief (SBDR), beginning the morning in Beaumont, Texas and making a final stop in Lake Charles, La., in the early afternoon.
Once Hurricane Laura made landfall early Thursday morning (Aug. 27), Lake Charles endured the brunt of winds that reached 140 miles per hour. Louisiana Baptist Disaster Relief will station some of their operations at Trinity Baptist Church in the heart of the town.
"There is no electricity anywhere in the city," said Sam Porter, national director for SBDR with Send Relief and the North American Mission Board. "Some have said it looks like a hundred tornadoes landed in Lake Charles two nights ago. As we drove in with the truck from Send Relief, we had to dodge debris on the main road into the church."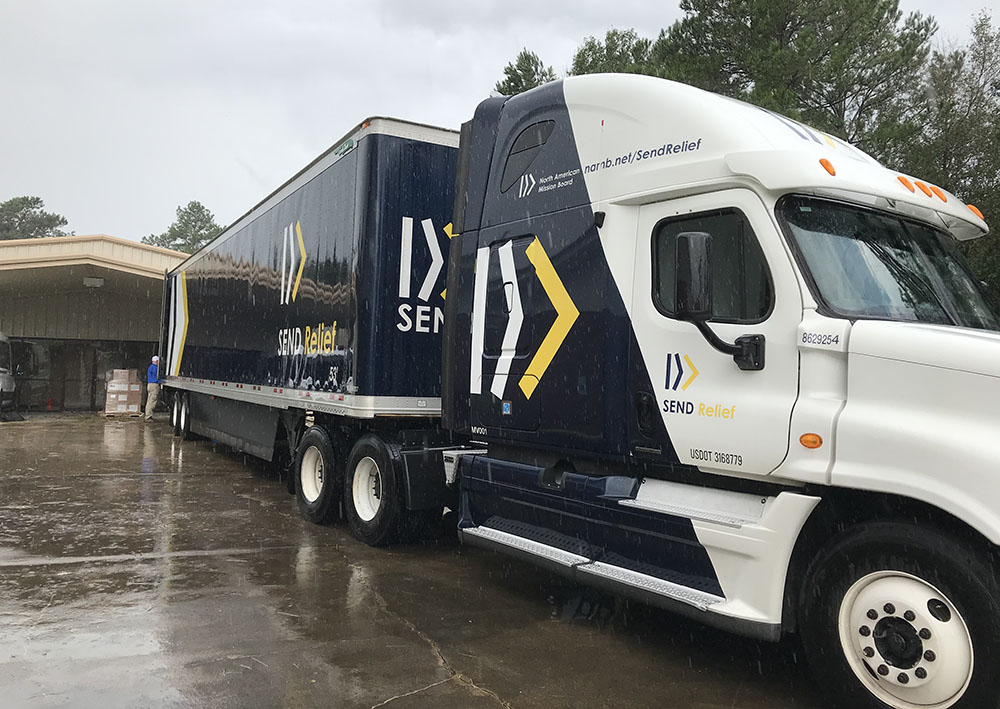 Before arriving in Lake Charles, Send Relief stopped at North Orange Baptist Church in Orange, Texas, to drop food and supplies for Texas Baptist Men, the SBDR team for the Baptist General Convention of Texas.
Carolyn Berry, an Orange, Texas resident, stopped by the church to request help from SBDR while Send Relief dropped off supplies. She and her family evacuated to Houston before Laura made landfall. She returned Friday and surveyed several downed trees in her yard, one of which landed on her roof.
"To come home and actually see the devastation, not only at my house, my house compared to some others is probably nothing," she said. "I've seen trees actually through houses. I've seen trees blocking roads. There is a lot of devastation."
Hurricane Laura was not the first major storm Berry had experienced.
"I recovered from Harvey just a couple months ago," Berry said of the hurricane that hit the Texas Gulf Coast in 2017. "I just got my house straight from Harvey, and now I have this. It's disheartening but thank God we have life."
The rainy morning began with the Send Relief semi-truck pulling into Liberty Baptist Church in Bridge City, Texas. The Southern Baptists of Texas Convention will use the church as a hub for disaster relief ministry to the surrounding community.
Lee Jackson, pastor of First Baptist Church Cannonsburg, Ky., has his commercial driver's license CDL, which he earned during a stint between ministry positions. He drove the truck from a Send Relief ministry center in Ashland, Ky.
Jackson said that while he's been on the road, he filmed a quick, livestream Wednesday night Bible study with his church, going through Baptist distinctives.
"This week just fell on evangelism and missions," Jackson said. "So, it just worked out perfectly. I did a short video, short enough that I could post it to Facebook without a Wi-Fi connection. I did it from the cab of the truck."
Send Relief stationed the truck in Ruston, La., Wednesday before traveling to Vidor, Texas on Thursday to begin delivering supplies from west to east, later arriving in the highly afflicted areas of southwest Louisiana and Lake Charles.
Southern Baptist Disaster Relief will be launching its relief efforts over the weekend, including providing meals and sending out chainsaw and rolled-roofing crews to help repair their homes.
For more information or to donate to Southern Baptist relief efforts, visit sendrelief.org/Laura.
---
Published August 28, 2020